09/06/2020
METROPOLITAN EXPO VENUE HAS ACHIEVED COVID SHIELD CERTIFICATION BY TUV AUSTRIA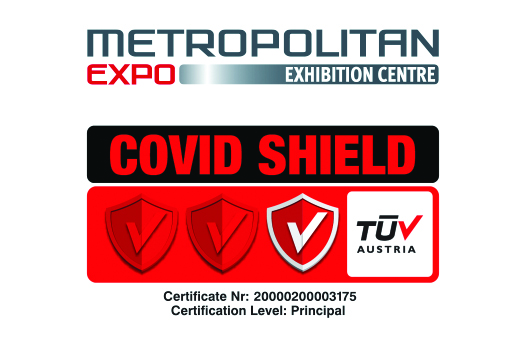 The Athens Metropolitan Exhibition & Conference Centre has achieved Covid Shield Certification-Principal Level* by TUV Austria.

With this achievement the venue's operation is being safeguarded and showcased, as the largest, the most advanced and the safest exhibition, conference and events center in Greece, fully in compliance with the International standards and practices.

Paramount consideration of Metropolitan Expo Centre administration continues to be the safety and well-being of every exhibitor, visitor and personnel alike, fortifying its facilities and services, as certified by the aforementioned certification.

Following the official governmental announcement regarding the restart of the exhibition sector on the 1st of July 2020, Metropolitan Expo Centre administration, fully responsive to the new conditions, sets as its core concern the successful and secure organization of all hosting exhibitions, conferences and events, in an absolutely safe and protected environment.

For further information:
Metropolitan Expo
info@metropolitanexpo.gr
(+30) 2103542900

*TUV AUSTRIA COVID SHIELD certification: TUV AUSTRIA COVID SHIELD certification stipulates fundamental requirements and procedures with which ATHENS METROPOLITAN EXPO SA complies. With this certification it is ensured that the exhibition centre provides the appropriate arrangements, resources and infrastructure for the prevention and avoidance of any introduction and spread of corona virus in the premises of the exhibition centre.

About Metropolitan Expo: Metropolitan Expo is Greece's most contemporary venue and one of the largest and most functional centres for events, exhibitions & conferences in South Eastern Europe. Metropolitan Expo is privileged located next to Athens International Airport "Eleftherios Venizelos" with quick access & spacious parking. Designed to the highest aesthetic & functional standards, ensuring flexibility, multifunctionality and environmental sensitivity, Metropolitan Expo hosts since its opening in 2009, a large number of impressive exhibitions, cultural events, large scale conferences & happenings from Greece and all over Europe.