27/05/2022
Discover EmiTr – ABL Group's digital emission tracker for ports and harbours, Posidonia Stand 3.461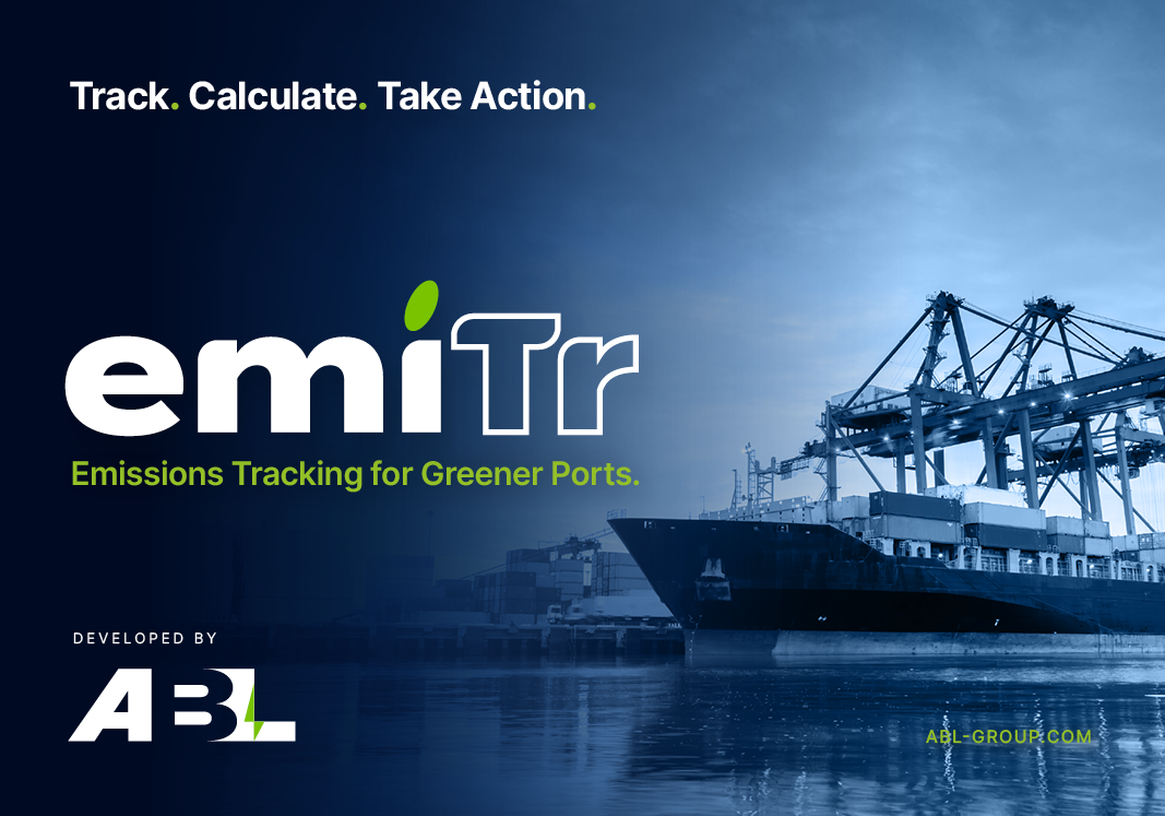 International energy and marine consultancy ABL Group will be presenting its digital solution to track and visualise a port's direct and indirect emissions - emiTr, at Posidonia, on stand 3.461

emiTr – based on the "Port Emissions Toolkit", has been designed by ABL Group in collaboration with Shoreham Port – a UK Trust Port, to enable ports to track their complex emissions profile, calculate the cost and risk of their emissions, and facilitate the necessary data and information to put down a roadmap to reduce their carbon footprint in line with national and international reduction targets.

"The first step to cutting emissions is understanding them – what they are and where they come from. emiTr provides a digital inventory of the complex web of a port's emissions, mapping out both direct and indirect sources, as well as identifying the profile of individual emitters. Once a baseline of data is established, visual representations can assist to identify high emitters and inform capex expenditure accordingly," Paul Martin, ABL Maritime Director.

Data is uploaded into emiTr, where the amount of pollutants and greenhouse gases emitted through the port's operations are calculated. The system also retrieves the live market price of carbon determined by UK and EU Emissions Trading Schemes and uses it to assign a monetary value to the CO2e emissions.
The portal identifies and calculates three different scopes of emitters:
Scope 1 – direct emissions under the port's control such as port owned vessels, vehicles, and heating infrastructure
Scope 2 – indirect emissions such as electricity purchased for use within the port boundary
Scope 3 – indirect emissions, which are not under the direct control of the port, such as tenants' cargo handling equipment and ships
"Although currently there is no legislation that specifically requires ports to reduce their emissions, in anticipation and as part of national plans, ports must start now to understand their profile. emiTr will help ports and other maritime facilities such as shipyards, offshore wind sites, and even the oil and gas industry, to get ahead of the curve and identify their carbon footprint, so they can take informed action," Paul Martin, ABL Maritime Director.

Samantha Woolven, Interim People, Communications & Sustainability Director at Shoreham Port commented "At Shoreham, the sustainability question is ingrained in everything that we do. We take our role as a trusted custodian of our Port, our community, and our environment seriously. We are delighted to be working with the team at ABL who are helping us make the identification and tracking of our emissions simple and straightforward to do. This is important data for us to understand the impact we make, and we will use this data to inform decisions in the future as we aim to improve our energy efficiency and reduce pollution across the Port's footprint. We are committed to being part of the change that ensures we as a Port are here in a healthy, inclusive, and sustainable way for years to come."

Paul Martin will be attending Posidonia on the ABL Group stand 3.461 to introduce emiTr in more detail and to answer any questions about the software.

emiTr has also been developed to be highly configurable to support other segments of the maritime and offshore energy industries, in measuring and taking action on their carbon footprint.

For more details on emiTr, please view the video.

For further information, please contact:
Endre Aaberg Johansen
Tel: +47 41 61 06 05
Email: endre.johansen@corpcom.no
About ABL Group
ABL Group (OSE: AqualisBraemar LOC ASA – ticker code "AQUA") offers independent energy and marine consultancy to the global renewables, maritime and oil and gas sectors. The group has offices in 39 countries worldwide. ABL Group operates under seven brands: ABL, OWC, Innosea, Longitude, JLA, East Point Geo and ABL Yachts.
About Shoreham Port
Shoreham Port is a thriving commercial Port on the south coast of England with excellent infrastructure and facilities. With a heritage that can be traced back to 1760, the Trust Port operates at the heart of the community with a purpose to improve the Port for everyone. Shoreham Port offer a full range of services aligned to commercial shipping, fishing and leisure marinas, alongside an extensive property and storage portfolio. Certified as an EcoPort for the last 8 years, the Port is amongst the most sustainable in the UK.