16/04/2020
BUREAU VERITAS OPENS REMOTE SURVEY CENTER IN PIRAEUS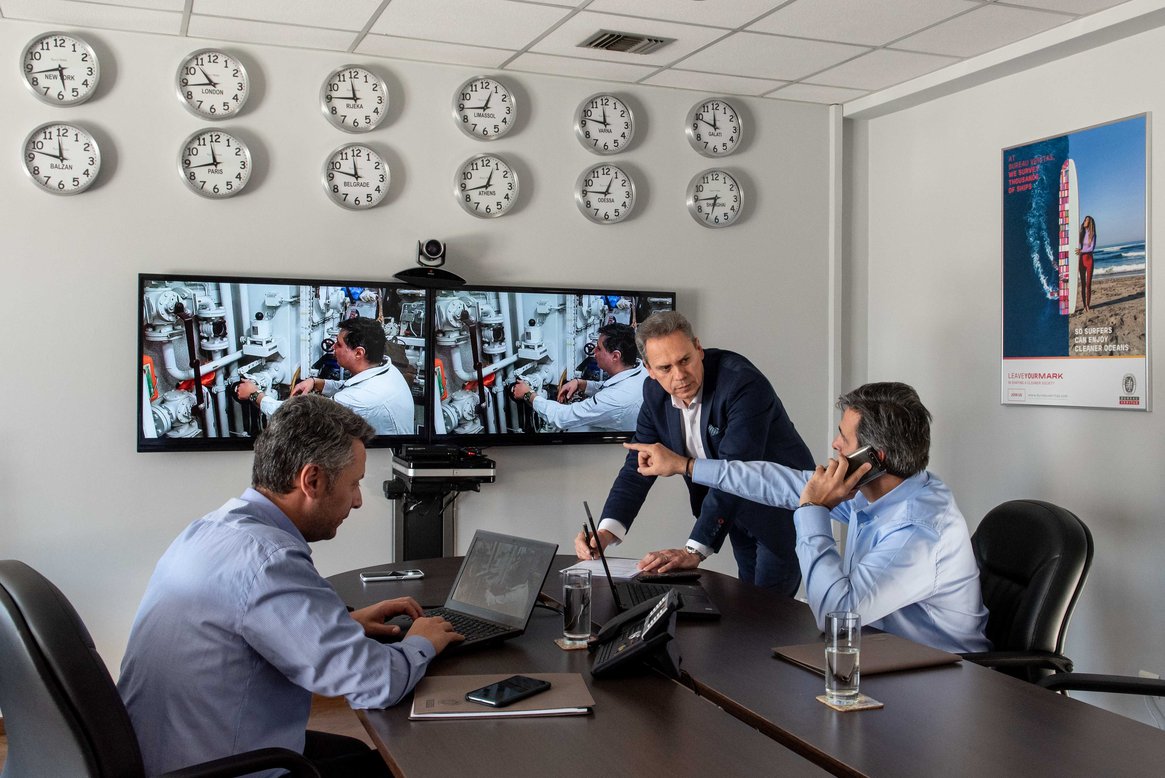 Bureau Veritas (BV) digital classification services are now supported by a Remote Survey Center open in Piraeus, Greece.
Remotely located surveyors in Greece and world-wide, using imagery and real time video, are able to connect with ships, shipyards and with dispersed stakeholders and experts – in total confidence
The Piraeus Remote Survey Center is the latest being opened in major shipping centers world-wide by BV and will further support the remote capability and activities already coordinated by the Piraeus office for clients
Paris, La Defense, April 14th, 2020 Bureau Veritas (BV), a world leader in testing, inspection and certification (TIC) services has opened a Remote Survey Center, located in the major ship owning and shipping services cluster of Piraeus. The newly opened center is part of BV's Hellenic, Black Sea and Adriatic HBSA) Zone office.

'The pioneering technology we are using and the confidence that both we and our clients have in our remote capability means that our surveyors in Greece and across the zone network are able to conduct surveys world-wide from either our office in Piraeus or across this Zone or connecting with the surveyors across our global network', comments Paillette Palaiologou, HBSA Zone Vice-President for Bureau Veritas.

The remote service delivery led by a team of experienced surveyors. Bureau Veritas is able to offer a comprehensive range of survey items which can be performed remotely. The applicable survey items include classification surveys and specific statutory items which can be agreed by flag administrations.

Paillette Palaiologou: "Significant benefits to clients include speed of response and no travel or waiting time; optimization in the decision making process thanks to livestreaming solutions; continuous improvement in the quality of service; and cost control through overall reductions in travel time and arrangements. We have demonstrated this in the projects delivered already.
"We have taken a customer-first approach by investing and innovating in remote, connected and digital classification services that are fully aligned to – and can meet the specific requirements of clients.
"And at a vital time for shipping, the global economy and society, BV's remote, connected and digital services are providing an essential business resilience role for shipowners and operators, ensuring that they can continue to operate in a safe and compliant manner."

Bureau Veritas has focused heavily on the development of digital classification. Services like remote survey are the product of years of research, development and pilot projects. BV's digital classification services cover every stage of the ship lifecycle, from design and construction through to in-service support and the latest surveying technologies.

To see more about Bureau Veritas and digital classification: https://marine-offshore.bureauveritas.com/digital-classification

Notes to editors
About Bureau Veritas
Bureau Veritas is a world leader in laboratory testing, inspection and certification services. Created in 1828, the Group has more than 78,000 employees located in more than 1,500 offices and laboratories around the globe. Bureau Veritas helps its clients improve their performance by offering services and innovative solutions, in order to ensure that their assets, products, infrastructure and processes meet standards and regulations in terms of quality, health and safety, environmental protection and social responsibility.
Bureau Veritas is listed on Euronext Paris and belongs to the Next 20 index.
Compartment A, ISIN code FR 0006174348, stock symbol: BVI.
For more information, visit https://bureauveritas.com

MEDIA CONTACTS
Nicholas Brown
+33 (0) 6 04 91 72 41
nicholas.brown@bureauveritas.com
Issued by Blue Communications
+44 (0) 1865 514 214
teamBV@blue-comms.com