12/06/2018
POSEIDON Marine Supplies will reward Green Award certified ships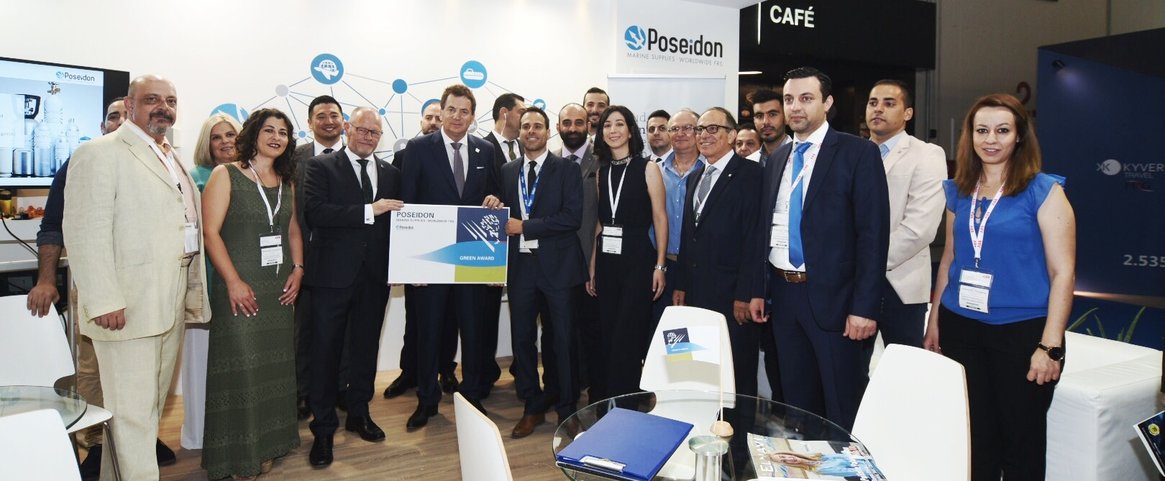 POSEIDON Marine Supplies has joined the Green Award scheme to encourage safety improvement in shipping and will reward Green Award ships with discounts on its services and products.
The Green Award scheme is open for ships and ship managers striving for excellence and being able to meet the Green Award requirements that go beyond the industry regulations. Green Award certificate holders are rewarded for their efforts by over 120 ports and maritime related businesses all over the world.
POSEIDON Marine Supplies is a leading company in the fields of general ship supplying and fire-rescue & safety (FRS) inspection services. To encourage excellence and quality improvement in shipping, POSEIDON Marine Supplies will reward Green Award certified ships with additional discounts of the standard prices on 'Total Care' program, Drӓger instruments and tubes, FRS and lifeboat inspection services and general stores.
POSEIDON Marine Supplies was welcomed into the scheme by Green Award Chairman Captain Dimitrios Mattheou, who handed over a Green Award plaque to Mr Michael Papachastas, founder and CEO of POSEIDON Marine Supplies on 6 June, 2018. 'POSEIDON Marine Supplies has developed gradually and evolved over the last 42 years as a major and trustworthy partner of Shipping, both in Greece and worldwide,' Captain Mattheou said. 'Your decision to support Green Award, contributes greatly to the shipping industry. More specifically, your active involvement in the Green Award concept is vital to the accomplishment of our mission: To achieve the highest standards in terms of environmental performance and safety in shipping. Welcome on-board Poseidon team!'
About Poseidon Marine Supplies Group
POSEIDON Marine Supplies is a family owned business established in 1976, by M. Papachastas. With respect to the tradition of Greek shipping trade, the company managed to consolidate its position in the marine world and gain its clients' respect over the years. Based in Piraeus port, the company's convenient location facilitates deliveries even on a short notice.
The company is divided into two main departments, which indicate core business and key fields of operation:
Marine Supplies of Deck, Engine, Cabin Stores, Bonded Stores and Safety products.
Inspection and certification of Fire-Rescue and Safety (FRS) equipment that include the inspection of fixed fire suppression systems, fire extinguishers, breathing apparatuses and escape devices, life jackets and immersion suits, life rafts and lifeboats.
POSEIDON Marine Supplies has more than 80 qualified employees, who work on a rolling 24/7 schedule and service on a daily basis some of the biggest shipping companies in Greece and worldwide. Also, due to an organized distribution network we are capable of supplying vessels, shipyards, yachts, ports and offshore structures anywhere around the world.
Additionally, the company offers on-spot technical support (service and certification of FRS equipment) worldwide, through a flying squad of well-trained technicians. Regular training of our technicians according to the latest IMO regulations as well as the latest service bulletins makes our company a technological expert and a trustworthy partner.
About Green Award
The Green Award Foundation was established in 1994. Green Award is a global, independent, non-for-profit quality assurance organization that works by certifying ship managers and vessels that go beyond the industry standards in terms of safety, quality and environmental performance. The scheme is open for sea-going oil and chemical tankers, bulk carriers, LNG and LPG carriers, container carriers, inland navigation barges and inland passenger ships.
The essential of Green Award is that it covers a wide range of aspects related to safety quality and the environment. Green Award brings together high quality ships, maritime service providers and ports that want to improve safety, attract quality ships and reduce environmental and safety risks. In fact Green Award acts as the platform for the industry cooperation. Green Award incentive providers (ports and maritime service providers) award ships the highest safety and quality standards of which are confirmed by the Green Award certificate with various benefits such as discounts on the port dues, products and services.
With over 120 incentive providers in North America, South America, Europe, Africa, Middle East, Australasia and Asia currently participating in the scheme, Green Award motivates ship owners and managers to invest in the improvements on board and ashore and serves as a reliable indicator of the ship's highest standards and as a Corporate Social Responsibility and risk reduction tool for shipping companies and ports.