07/06/2018
Piraeus Port Authority S.A. sets high standards for quality and environmental management.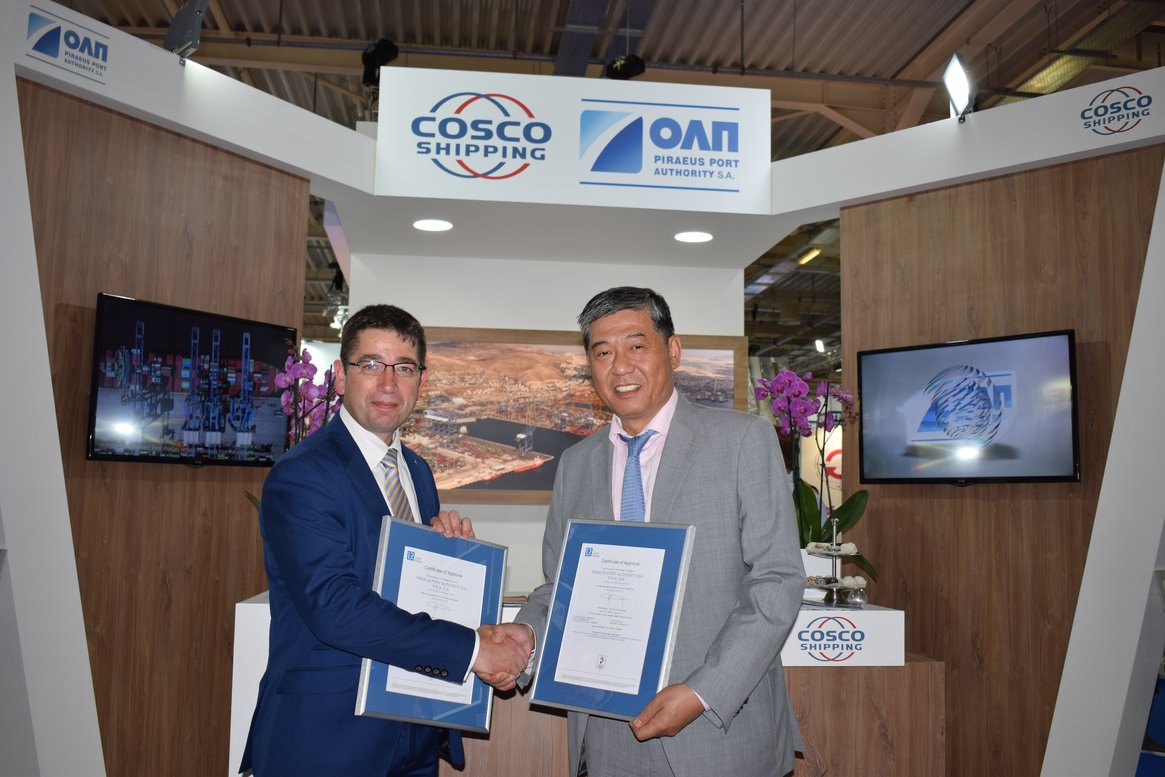 Piraeus Port Authority S.A. (PPA) awarded double certification against ISO 9001:2015 and ISO 14001:2015 by Lloyd's Register (LR).
At a ceremony today held during international shipping exhibition Posidonia, Capt. Weng Lin, PPA Deputy CEO, was presented with certifications against ISO 9001:2015 for Quality Management and ISO14001:2015 for Environmental Management by Mr Nick Brown, LR Marine & Offshore Director. The double certification demonstrates the company's commitment to best practice for quality, environmental management and pollution prevention.
PPA's certification commenced against ISO9001 and ISO14001 with LR in 2013. This certification has recently been extended to cover the Provision of Port Cruise, Ferry, RoRo & Container Terminal Services, as well as the management of Logistics Center, Port Construction & Maintenance Projects, therefore demonstrating PPA's strong commitment towards continual improvement and operational excellence across its very broad scope of activity.
Capt. Weng Lin, PPA Deputy CEO, receiving the certifications, commented "The port of Piraeus has included in its Strategic Planning the certification of the provided services and the protection of the environment. PPA invests in management systems applied worldwide aiming at continuous improvement of its services".
"LR is delighted to award the Piraeus Port Authority with their ISO 9001 and ISO 14001 certificates, which collectively demonstrate their quality and environmental commitment. Posidonia serves as a platform for LR not only to showcase our credentials within the marine sector, but it enables us to demonstrate our Group-wide service offer to include assurance against the world's leading standards and schemes. Our heartfelt congratulations go to all of the team at the Piraeus Port Authority. " said Mr Paul Butcher, LR Business Assurance Director.
Mr Nick Brown, LR Marine & Offshore Director concluded, "We are delighted to make this presentation, acknowledging PPA's commitment to quality and the environment. This is a matter of increasing importance and it is particularly appropriate to be highlighting good work in this area during a week that marks both World Environment Day and World Ocean Day."
At the same time, Piraeus Port Authority is one of the three ports congratulated this year by the European Sea Ports Organisation (ESPO), for renewing EcoPorts' environmental management standard (PERS). PPA has been a member of EcoPorts for a long time, with PERS certification rewarding years of day-to-day engagement towards improving environmental management. PERS is the only port specific environmental management standard and compliance with this standard is independently assessed by LR.