03/06/2022
SEKEE: The Greek ICT ecosystem will be present at Posidonia 2022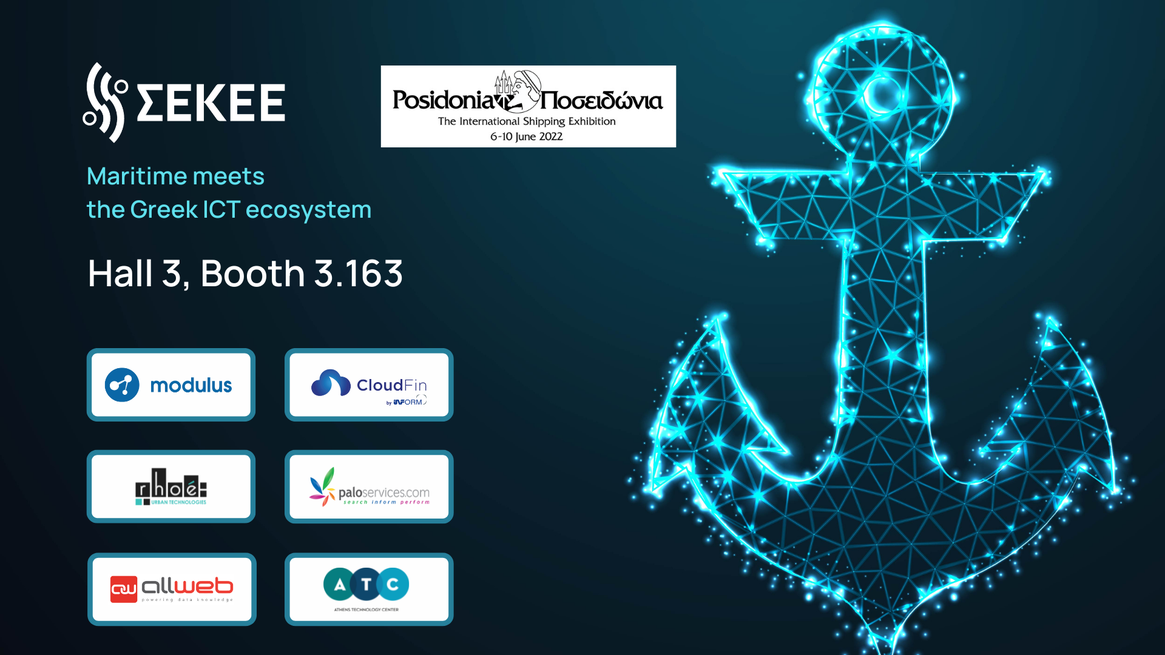 The well-established international shipping exhibition "Posidonia" returns this year, after a 4-year absence due to the pandemic and SEKEE (Hellenic Association of Innovative Application Companies) participates for the first time in Posidonia 2022, which will be held at the Athens Metropolitan Expo, from June 6th to June 10th, 2022.

SEKEE's stand (stand 3.163, Hall 3) will host 6 member companies of the Association (Modulus, CloudFin, Rhoé, Palo Services, AllWeb Solutions and Athens Technology Center) , aspiring to present to the international shipping market the dynamics of the Greek ICT ecosystem, and also showcase the variety of solutions and platforms available to the maritime industry.

Visitors and exhibitors will be able to get in touch with executives from:
1. modulus, a Greek company offering next-generation telecommunication solutions. The high quality of modulus services is ensured both by the long-term experience of its experts, as the company operates in the field of telecoms since 2012, as well as by the international partnerships developed with the industry leaders worldwide. As one of the market leaders in VoIP services in Greece, modulus has helped numerous companies in multiple sectors to digitally transform via VoIP telephony. A telephony solution that eliminates the constraints of traditional telephony, enhances remote work capacity and at the same time radically diminishes communications costs for businesses. Modulus is also one of the first companies that introduced the vPBX phone system in Greece. This feature-rich virtual phone system helps companies avoid the high investment in on-premises infrastructure and adapt quickly to the new remote-work reality. In addition, modulus offers wholesale voice termination, innovative telephony applications, such as speech-to-text, and telephony integrations with popular third-party apps.

2. CloudFin, a leading-edge company, formed by technology professionals with more than 20 years of experience in the field of enterprise software. The company has recently joined the INFORM group of companies. CloudFin offers cutting-edge solutions, targeting complex business problems in the areas of process automation, accounting solutions, advanced analytics and remote operations through cloud applications, mobile apps and chatbots. CloudFin's clientele consists of major global organizations and industries from the auditing and accounting, banking, commerce, retail and public sector.

3. Rhoé leads the development of the Energy-as-a-Service sector with a swappable battery network for electric ships that makes sure that vessel owners have the clean energy they need, when they need it, at a competitive price. Rhoé's expertise on sustainable maritime software has been a central part of projects with Wartsila, DAMEN, Kotug, Lloyd's Register, Sensata, the port authorities of Rotterdam and Thessaloniki and many more. In fact, the company builds optimization software that bridges carbon-neutral forms of energy with bleeding-edge transportation technologies. Rhoé can also provide valuable skills to companies that are involved in a variety of projects, such as transportation modelling and predictive models, energy usage optimization, ESG models and reporting, data analytics, machine learning implementation, cloud and local platform development. Lastly, Rhoé has an urban mobility branch, which has worked on electric vehicle infrastructure projects in 40 different cities. Ideas, expertise and, sometimes, even personnel is shared between projects at Rhoé, creating multidisciplinary solutions to the hardest problems of making sustainability make business sense for the maritime sector.

4. Palo Services, a deep tech company offering marketing and communication analytics services to brands, using state-of-the-art Language Technology and AI. The vision of the company is to be an AI driven company to understand humans in the digital ecosystem. The company uses Artificial Intelligence, Machine & Deep Learning technologies and cutting-edge language technology to provide innovative ways to monitor & analyze online news and social content in real time. It currently covers a business area with a population of 120M citizens in Southeastern Europe. Their clients include leading brands such as Loreal, Estee Lauder, Nestle, Cosmote, Wind-Nova, Eurobank, Alpha Bank, AstraZeneca, Kotsovolos, Public Group, BAT, Peugeot etc. Their strong and long term cooperation with the National Technical University of Athens, the National & Kapodistrian University of Athens, the Harokopio University and some other research partners distinguishes our R & D activities. The company is supported by EU's InvestHorizon Accelerator and InnovX.

5. Allweb Solutions, a Greek company which specializes in the implementation of Integrated Information Systems based on cutting-edge technologies, such as Internet of Things (IoT), Geospatial (GIS), Big Data, Business Analytics, Mobile Apps, eLearning and Integrated Software Apps. The company is certified with ISO/IEC 27001:2013 and ISO 9001:2015, with a scope of Design, Development & Support of S/W Applications & Integrated IT Systems, Consulting Services and Provision of SaaS. During 33 years of presence, Allweb is one of the most reputable companies in Greece in modern technologies and services, having delivered successfully over 950 projects to clients in the Government, Financial Services, Manufacturing, Health, Utilities, and provided solutions for IT, Finance, HR, Sales, Marketing and Operations departments. In its team of 35 full-time professionals with complementary skillsets, you can find data architects, data scientists, business analysts, developers, system administrators and admin staff. Allweb can practically take over and deliver any technical challenge, ranging from the development of simple web applications to highly demanding data mining and data analysis software tools.

6. Athens Technology Center (ATC), a smart business enabler that provides novel end-to-end IT solutions for all business functions. ATC, in partnership with Moore Greece, an accounting and consulting firm specializing in shipping, introduce the Maritime Accounting Software, a future proof, scalable and cost-effective accounting and reporting software, uniquely tailored for the industry. This cloud-ready solution gives an innovative edge to maritime companies' current information and communications technology infrastructure and provides ship owners, CFOs and accountants with the information they need for real-time decision-making. It is designed so that users can navigate intuitively through a multi-company and multi-site suite that interfaces well with pre-existing software infrastructure.
Mr George Markatatos, President of SEKEE, stated: "Innovative solutions based on state-of-the-art technologies are coming to transform shipping, which, like all sectors of the economy, is in the process of digital transformation. This year, SEKEE and its members participate for the first time in Posidonia 2022, this international meeting of global shipping in Greece, aiming to introduce Greek innovation to the protagonists of a highly dynamic industry, utilizing cutting-edge technologies, such as the Internet of Things, the cloud etc., and the innovative solutions the Greek ecosystem developed in the fields of finance, communications, energy management and sustainability for the shipping and marine needs".

Mr Christos Petsas, CEO at modulus, said that "As the No1. VoIP service provider in the Greek market, modulus's participation in this year's Posidonia is a given. From June 6th to June 10th our representatives will be there to highlight both the financial benefit and the advantages deriving from using new generation technologies, oriented to the needs of the shipping industry. Ensuring the lowest possible cost of outgoing international calls via VoIP telephony and the most competitive market prices to Inmarsat will transform communications today, with a view to the future".
Mr. Dimitris Kontinos, INFORM's Group Chief Technology Officer and the Managing Director of "CloudFin" member of INFORM, mentioned that "CloudFin (by INFORM) has always been all about creating innovative solutions in automating procedures through cutting edge technologies! Especially when it comes to highly sophisticated industries such as shipping, we operate at our finest level, bringing immediate results and thus actual competitive advantages to the firms that entrust us with their digital automations needs."

Mr Aimilios Mouchtaropoulos, Co-founder & Chief Marketing Officer at Rhoé, stated that "Rhoé is a start-up operating in the green technologies sector. Our vision is to play a leading role in the transition to cleaner forms of energy, creating a greener and more sustainable environment accessible to all. We are developing software and optimization algorithms that combine green energy with innovative technologies to achieve this. In the shipping field, our goal is to make a decisive contribution to an industry with zero carbon emissions in its transport; Posidonia is a huge opportunity to make new partners in this effort and to lay the groundwork for new and innovative ideas".

In adittion, Mr. Panagiotis Tsantilas, Founder & CEO at PaloServices, said that "Participating at the world's most prestigious shipping event will give us the opportunity to explore ways to combine the vast ocean of Big Data with the Shipping Industry, through AI & Social Intelligence."

Also, Mrs. Ioanna Ioannidou, President of Board & CEO at Allweb, stated that "Gathering 33 years of experience this year in the Development of Multiple Integrated Information Systems, Allweb participates in "Poseidonia 2022" at the Athens Metropolitan Expo from June 6 to 10. You can find us at the stand of SEKEE 3.163, hall 3, where the Allweb Dynamic Team is willing to discuss with you ways in which you will improve your company's processes by using innovative applications. We will be happy to meet you, to understand your needs and goals in order to offer you the best Digitization solutions for your business."
For more information
Makridou Melina, Kakkava Eleni
T. +30 211 8000 910
makridou@sekee.gr, kakkava@sekee.gr
www.sekee.gr